This will be an interesting week as I feel there will be no sure fire box office draws. Audiences might still be trying to find time to catch up with the Fast and Furious 6 crowd. Who ever wins in terms of box office, it going to be a genuine surprise.
Box Office or not, this week does bring about films that feel familiar, but each do feel like they bring a new kind of twist in the genre they are playing in.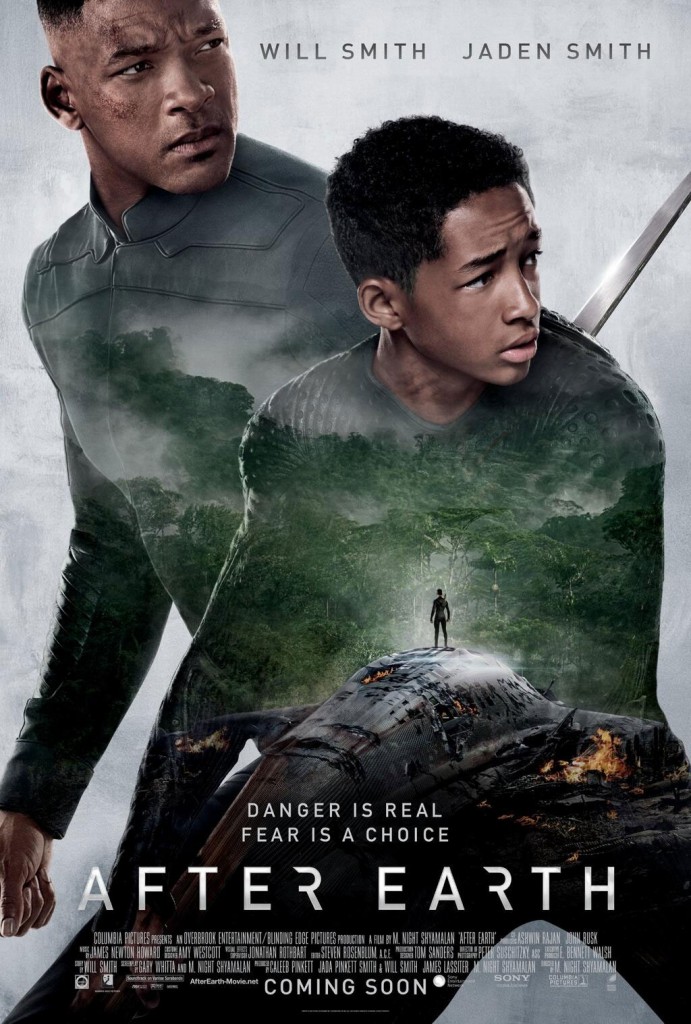 Director: M. Night Shyamalan
What's the plot? In After Earth, one thousand years after cataclysmic events forced humanity's escape from Earth, Nova Prime has become mankind's new home. Legendary General Cypher Raige (played by Will Smith) returns from an extended tour of duty to his estranged family, ready to be a father to his 13-year-old son, Kitai (played by Jaden Smith). When an asteroid storm damages Cypher and Kitai's craft, they crash-land on a now unfamiliar and dangerous Earth. As his father lies dying in the cockpit, Kitai must trek across the hostile terrain to recover their rescue beacon. His whole life, Kitai has wanted nothing more than to be a soldier like his father. Today, he gets his chance.
TRAILER link below:
http://www.youtube.com/watch?v=8EXA12EiUaM
My thoughts? I want to believe this could work. I'm intrigue with the fact that Will Smith came up with the concept. I'm intrigue that he brought in a few writers (including famed comic writer Peter David) to help flesh out the world and the mythology. I still like him as an onscreen performer, and I think his son also has quite a bit of screen presence (especially after his performance in The Karate Kid remake…damn…I still hate that they called it that. KUNG FU! The movie was about KUNG FU!!!!…stupid stupid stupid…ugh…nevermind.) It overall LOOKS interesting.
BUT, there's that M. Night element.
I used to be a big fan. I loved The Sixth Sense, Unbreakable, and Signs but he really lost his touch. I hope M. Night got humble and started listening to his critics. He needs to tell a straight story. Just to prove that he can. It's sad to ask a director to do that because…they shouldn't be told to do that.  BUT, here we are. Hoping that M. Night could even remember to string together a strong narrative that doesn't piss people off.  Remember when he used to have his names above the title of the film. You realize who's name is never mentioned ONCE during the marketing of this movie? Yeah, I can't blame them. I wouldn't promote that this film is from "the director of that failure The Happening" either.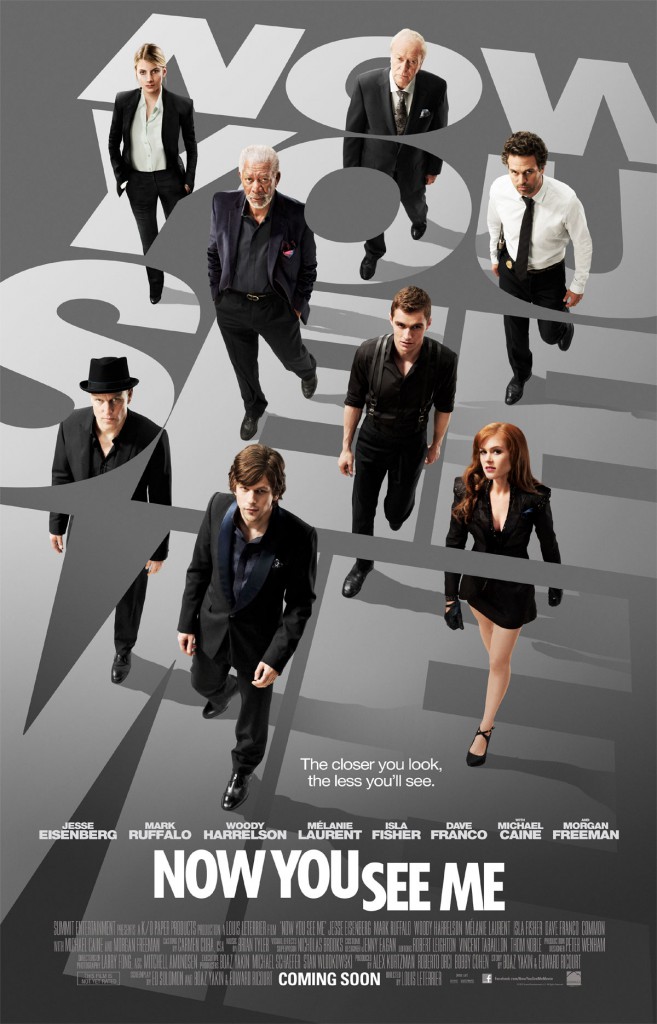 Director: Louis Leterrier
What's it about? The Four Horsemen, a magic super-group led by the charismatic Atlas (Jesse Eisenberg), perform a pair of high-tech magic shows, first astonishing audiences by robbing a bank on another continent, and then exposing a white-collar criminal and funneling his millions into the audience members' bank accounts. FBI Special Agent Dylan (Mark Ruffalo) is determined to make the magicians pay for their crimes—and to stop them before they pull off what promises to be an even more audacious heist. But he's forced to partner with Alma (Melanie Laurent), an Interpol detective about whom he is instantly suspicious. Out of desperation he turns to Thaddeus (Morgan Freeman), a famed magic debunker, who claims the bank heist was accomplished using disguises and video trickery. One thing Dylan and Alma agree on is that the Horsemen must have an outside point person, and that finding him (or her) is key to ending the magicians' crime spree. Could it be Thaddeus? Or Alma? Or could it really be…magic? As pressure mounts and the world awaits the Horsemen's spectacular final trick, Dylan and Alma race to find an answer. But it soon becomes painfully clear that staying one step ahead of these masters of illusion is beyond the skills of any one man—or woman.
TRAILER link below:
http://www.youtube.com/watch?v=DaavRAV8a0A
My thoughts? Heist movies are fun. Period. Insanely formulaic. Yes. But do I still enjoy to see how they will pull off the con? Of course I do. I like the hook to this one. Magicians are all about tricking the eye, slight of hand, and fooling the audiences, and the idea of making a group of magicians bank thieves is pretty ingenious. This is also one hell of a cast, and it's the kind of cast that can have fun with premise. As a fan of Zombieland, it's great to see Jesse Eisnenberg team up again with Woody Harrelson. Zombieland fans loved these two together (and it's because of the fact that they weren't in the TV show pilot of Zombieland, proved how much the fans loved them and didn't even want to bother giving the TV show cast a shot. Which is a shame, because I actually liked the Zombieland pilot..but that's for a future post….)  This also seems like a good use of Isla Fisher and Dave Franco. The chemistry of these four magician characters  is the crux of this movie, so here's hoping they have it. Michael Caine and Morgan Freeman are also reuniting again too, but this time OLE Batman won't be getting in their way, and they seem to be having fun in this film (and you can't go wrong with having Freeman do ANY voiceover work for your film.) Ruffalo is always good to watch and …oh..hi Melanie Laurent. Yes, I'm still in love with you, why do you ask?
I also think it's a bit of return to form for director Louis Leterreir. He's very good at making slick, fun action films.  He's also known to be the director of The Incredible Hulk, which sometimes feels like it's the nearly forgotten Marvel Studios film. I loved his Hulk film thought, and I thought he delivered the Hulk film that was closer to the Hulk I've been wanting to see on the big screen since I was a kid (and then…of course… The Avengers came out and did it better. Sorry Louis.) While I know that his Clash of the Titans remake didn't work (thought to be fair, I did read that the film was heavily edited and was basically taken away from him by the end of the production) I feel he's more at home with a film like this one. Funny side note, he's worked with Ed Norton on The Incredible Hulk, and now in this film he's working with Norton's Hulk replacement Mark Ruffalo. Strange how that turned out. This is also a reunion for Leterreir and Morgan Freeman since the last time the two worked together was the Jet Li action/drama Unleashed (Louis Leterreir's best film by far.)
While not one I'll see right away,but I have a strong feeling that this will be a very entertaining flick.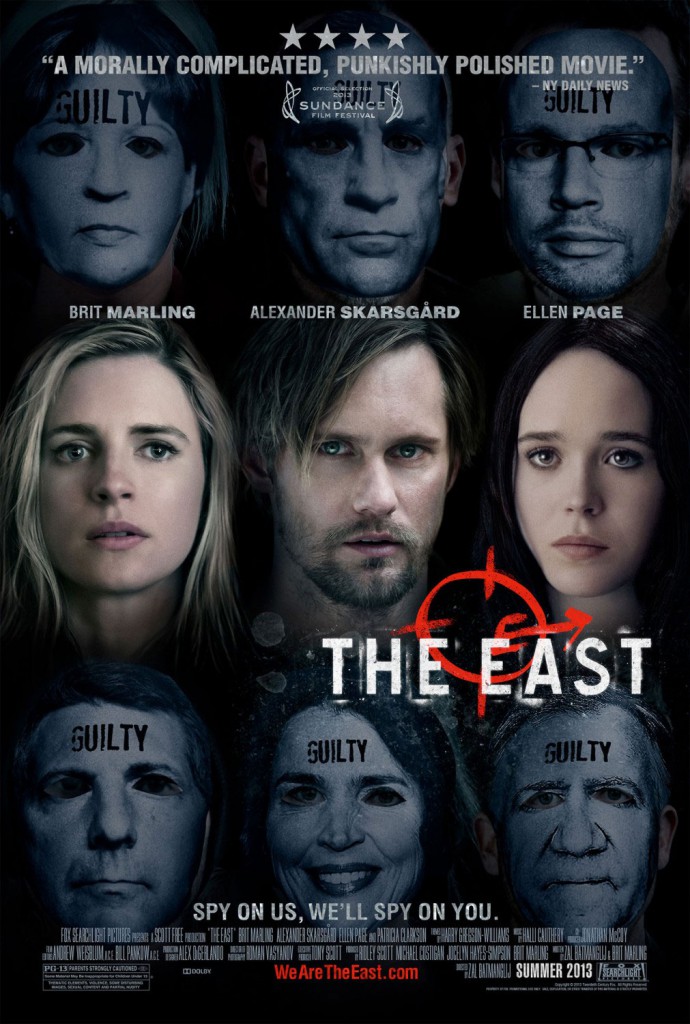 Director:  Zal Batmanglij
What's it about? In THE EAST, Sarah Moss (Marling) is a brilliant operative for an elite private intelligence firm whose top objective is to ruthlessly protect the interests of their A-list corporate clientele. She is assigned to go undercover to infiltrate an anarchist collective known for executing covert attacks upon major corporations. Living amongst them in an effort to get closer to their members, Sarah finds herself unexpectedly torn between two worlds as she starts to fall in love with the group's charismatic leader, finding her life and her priorities irrevocably changed.
TRAILER link below:
http://www.youtube.com/watch?v=MRX7w75wIFk
My thoughts? I still haven't seen Zal Baatmaglij and Brit Marling's previous film, The Sound of my Voice, but I've been wanting to. It does seem to me that they have this attraction to telling stories about dark groupings/collectives. I'm curious to see where Brit's career is heading because she's at a very interesting point in her life. She's making her own path by writing and starring in these films, and it allows her to play roles that she normally wouldn't get cast in, simply because she's not a big name yet.  
Again, this looks like a very interesting cast, and I do love how good Ellen Page seems to be in this. Who knew she could be intense! This definitely will be one I think we should be an eye on.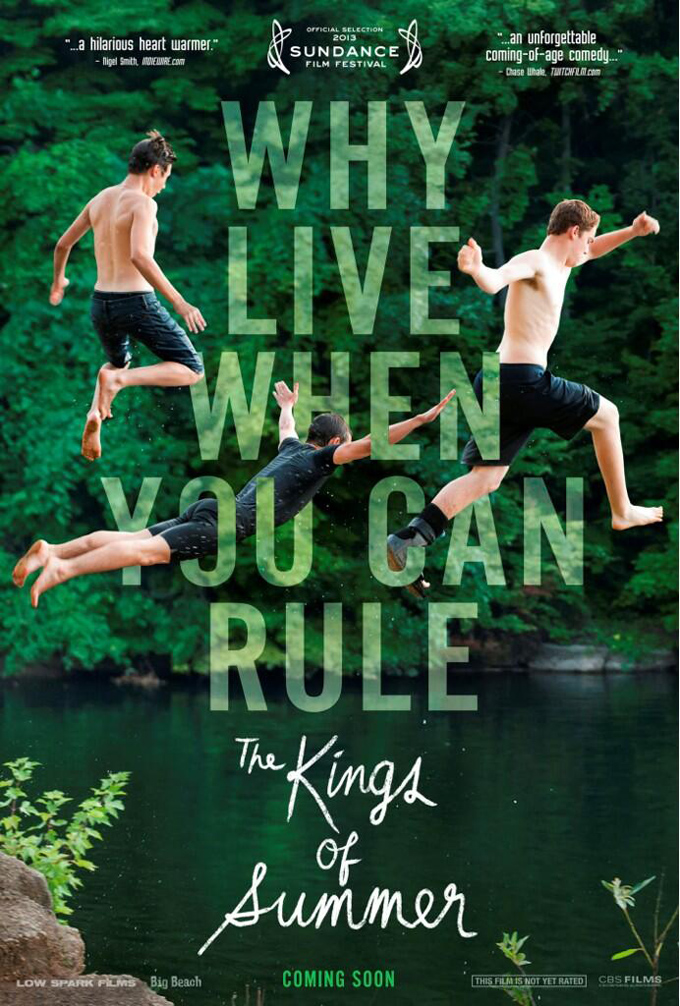 Director: Jordan Vogt-Roberts
What's it about? Joe Toy, on the verge of adolescence, finds himself increasingly frustrated by his single father, Frank's attempts to manage his life. Declaring his freedom once and for all, he escapes to a clearing in the woods with his best friend, Patrick, and a strange kid named Biaggio. He announces that they are going to build a house there, free from responsibility and parents. Once their makeshift abode is finished, the three young men find themselves masters of their own destiny, alone in the woods.
TRAILERS links below:
This is gonna be interesting for me, because I like both trailers released. Many people who've seen the film already disliked the green band trailer, feeling that it doesn't properly represented the film. I actually really loved that first trailer and it  was the one that got me interested. The red band trailer apparently is more in tune to the tone of the film. So, below, I'll post both.
Green Band Trailer:
http://www.youtube.com/watch?v=cLnAiVI4R2Q
Red Band Trailer:
http://www.funnyordie.com/videos/2c04cbcd88/the-kings-of-summer-red-band-trailer
My thoughts?  Ah, the coming of age story. They seem like a dime a dozen, but it's no secret why people keep finding inspiration to tell stories like these. No matter how old you are, you can still relate to the  feeling of your parents not getting you. This film really caught my attention. The cast is good (Nick "Mothaf**king" Offerman!) but the main three kids really seem like the true discoveries. Nick Robinson and Gabriel Basso seem to have a natural chemistry and pretty great comedic timing. The real question is where the hell did Moises Arias come from? This kid seems to be some kind of crazed alien occupying a body of a boy. 
This film also seems to have a strong visual look, and the comedy is sharp. The reviews have been great so far. Its a simple premise, but the characters look very appealing. Yeah, it may be a yet another coming of age film, but out of all the films coming out this week, this is the one I hope to see in the theaters.
So what about you guys? You willing to give M. Night another shot? Do you love coming of age stories? Comment below and tell us!