Folks…..we're gonna try to do something a little different with this column.
I've been writing LOOKING AHEAD since the site started two years ago and I feel like it's time to freshen up the approach. Instead of writing about EVERY single movie that's coming out this week, I'm gonna boil it down to a few choices a week.. Personally, I would LOVE do it the way I've been doing it since day one, but I just no longer seem to have the time to format it the same way and to write about EVERY single movie the same way anymore. Now, if you don't like this new approach, then I'll be happy to go back to the old format….just because I wanna make you guys happy.
So, this week I picked four films that I've heard heard good things about…or just have something to say about the film.
What's it about? Two women who grew up together discover they have drifted apart when they retreat to a lake house together.
My thoughts? AWESOME trailer. I know that for a while, the Grindhouse style of trailer was pretty popular to do, but this is based itself on the little used none-action/exploitation style Grindhouse trailers. This is the kind of old school trailer that tried to sell how unsettling the film is…and I'm not gonna lie, it worked for me.  Elizabeth Moss is always great to use in a role like this, where she plays a character that defies the expectation you might have had with her. Katherine Waterson impressed many folks with her performance in Inherent Vice and she looks to keep bringing the goods in this one.
What's it about? Caught between a forbidden romance and the expectations of his friends, aspiring DJ Cole Carter attempts to find the path in life that leads to fame and fortune.
My thoughts? It would be easy to write this off as something that's not for me. I have no interest in this musical world, and the lifestyle it represents….YET…I'm kinda drawn to this movie. Maybe it's the confident visuals in the trailer. Maybe it's because I kinda dig the films need to be relevant. Think about it, this movie will look silly in about 15 years, YET that could also be the films charm. We Are Your Friends could really be a "of it's time" movie that represents a period of music culture that was BIG back then. Will it be a "realistic" look at that culture? Probably not, but it could be at least an entertaining film that would be a nice look at the zeitgeist of 2015. I'm also constantly  rooting for Zac Efron. I usually enjoy his performances whenever I end up seeing a film he's in. I feel he's always trying to prove something, and while I don't think he's found that film will let the rest of the world finally forget his Teen idol phase, I like that he keeps trying.
What's it about? In the wake of a disaster that wipes out most of civilization, two men and a young woman find themselves in an emotionally charged love triangle as the last known survivors.
My thoughts? Reading Agent Bobby's review of the first episode of Fear the Walking Dead (Which YOU can read right HERE.) it got me thinking about this movie. I've been reading great reviews about this film for a while, all saying amazing things about the performances of the whole cast (especially Margot Robbie), but reading how directionless ( or how un-compelling the drama is) on the first episode of FtWD,  it got me wondering if this film will be closer to the tone that folks would like better for the show. This film is not about Zombies (despite the Z in the title) but it does feel like a compelling story, using the apocalypse as a way to explore a unique dramatic situation.
And now…JUSTIN'S PICK FOR "MOVIE I'M GONNA REALLY TRY TO SEE THIS WEEK!"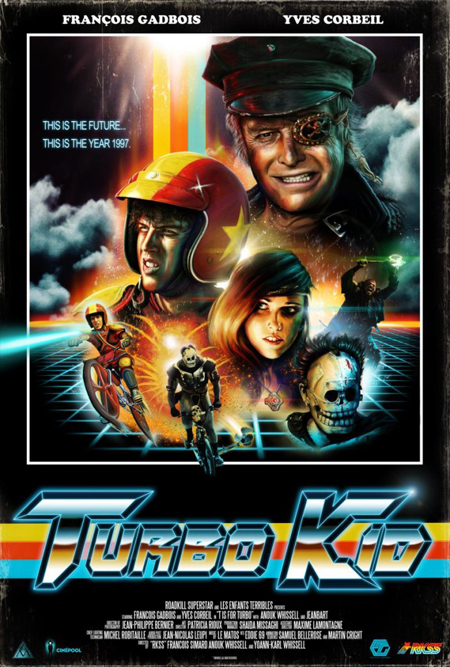 What's it about? In a post-apocalyptic wasteland, a comic book fan dons the persona of his favorite hero to save his enthusiastic friend and fight a tyrannical overlord.
My thoughts? Sometimes….I'm just in the mood to see something silly, fun, and violent, and folks I think this flick just looks like a blast in a half. I know we're now in this era of making pastiche movies that take a HUGE influence in '80's cheesefest films, but I'm digging the sincerity of the main kids performance and the overall fun vibe it's giving me. I read that the film feels like the promise of those great VHS covers in the '80s. Thoes VHS covers used to promise an amazing film…only to be disappointed with a flat out boring and cheap looking movie. Turbo Kid looks to be a great time, and having '80s badass Michael Ironside be you're main bad guy is certainly not a bad idea. This  flick is screaming to be seen with a HUGE crowd, and I wanna check this out with as many of my friends as possible.
Well ok, so that's it this week? Did you enjoy the slightly different format? Are you digging my choices or are you not feeling it this week? Let us know in the comments below!