In this GUARDicle, I shout my love for Jason Aaron and Esad Ribic's run of "Thor: God of Thunder." Specifically the focusing on the arcs "Gorr the God Butcher" and the "God Bomb." (Issue #01 thru 11).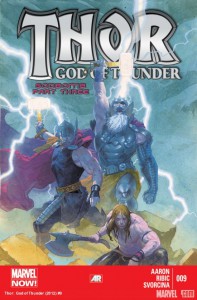 First off, I've been a Thor fan since I was a wee beardless child. My mom got me hooked on reading by giving me comic books. One of the very first comics I ever read was The Mighty Thor. So, I always hold Thor comics in special regard. This also means I can be quickly turned off. If Thor doesn't speak in enough "Shakespearese," or doesn't smite enough things, or doesn't straight up be a badass, then the Norse chemistry is all wrong, Wrong, WRONG!!
In that case, thank Odin for Aaron and Ribic's absolutely crazy good run of Thor: God of Thunder! Everything about this book is epic. The writing, the dialogue, the pacing, the plot and THE ART. By Hogun's fu manchu! The art is phenomenal. Esad Ribic's pencils and inks combined with Ive Svorcina's colors are godlike. I mean, just look at this page!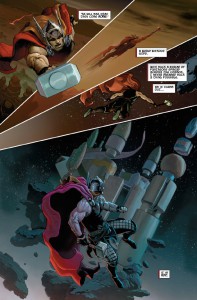 And this panel!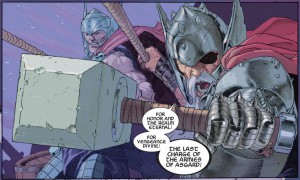 And because I'm so nice, here's another piece from Ribic!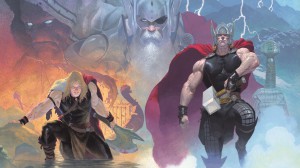 It is rare, and I'm talking R-A-R-E, to find a comic book where the cover and the interiors are equally as amazing. Each character, background, panel, and page is gorgeous. Quiet character moments are treated with as much importance as the big action sequences. How many artists can pull that off? Not many. And Ribic makes it look both effortless and exhausting at the same time.
Okay, okay, the art makes my body smile. But I'm a writing geek. The story is paramount for me. And that's where this Thor really starts to shine. We start in the way, way back when Thor was young, extremely arrogant, and totally unworthy of wielding Mjolnir. In some ways, it's a time when Thor was happier, in other ways he was an annoying teenage punk. (But aren't those one and the same, usually?) Enter Gorr the God Butcher, a being who can kill gods. And kill gods he does, with decapitations and torture galore (Ga-Gorr?)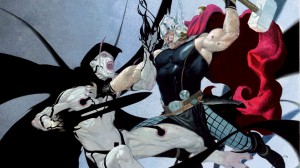 Young Thor, with his trusty axe Jarnbjorn at hand, takes on Gorr… and loses. And gets tortured. Apparently a lot of torture, according to the way time moves for immortals, and all. Young Thor gets free, of Gorr, if not the memories.
Fast forward to present day Thor where he finds more butchered gods, and realizes that Gorr has resurfaced. He goes on the hunt for Gorr.
Fast forward to King Thor thousands of the years in the future! He's missing an eye, his left arm has been replaced with the Destroyer's arm, and he has a big bushy beard. Asgard is in ruins, and he's a touch Valhalla hungry.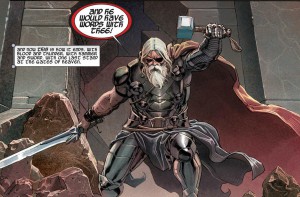 Mix in some time travel, and all three Thors team up to fight Gorr. And this is probably some of my favorite parts of the arc. Because King Thor gives Thor a hard time, but both are mortified by Young Thor, and in turn Young Thor is hilariously jealous of the fact that they can wield Mjolnir, but he still can't. But all three agree on their love of ale. I love their chemistry together. Constant smack talk and self loathing, which isn't really SELF loathing when there is literally another you standing there to loath.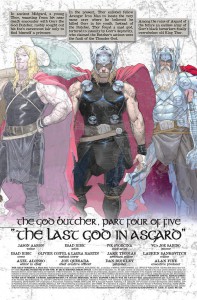 I feel I should warn you, gentle reader, that this series has its own kind "god" logic. If you don't strap yourself down and put all your settings to "JUST GO WITH IT" then you might not like this book that much. But I loved it. I also loved how Jason Aaron wrote this story. Very much in the style of an epic poem. Grand words, emotions, and deeds, taking a lot of lessons from Beowulf. A story of gods told by gods. Honestly, I can't praise this comic book enough.
Also, THIS page.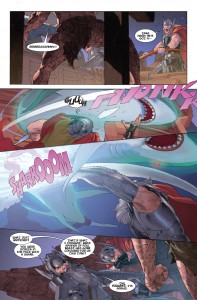 Space Sharks! SPACE. SHARKS. JUST READ THIS COMIC BOOK!