Sailor Moon Crystal has returned with the introduction of Rei Hino otherwise known as Sailor Mars in this beautifully updated reboot of a classic episode.
I remember when I was much younger I thought Rei was the coolest.  I couldn't relate to her in any way but I wished I could be more like her.  She was strong and forward and didn't take shit from anyone.  When I rewatched the series years later I was a little discouraged.  Rei was kind of mean and cutthroat.  Even later when I read the manga I learned she wasn't quite so bitchy but still willful and empowered; her strength was more reserved and regal than anything else.  That is definitely one thing I'm excited they will be changing from the original anime.
In Sailor Moon Crystal we get to see Rei not as a boy crazy loud mouth but as a classy, sisterly figure for Usagi to admire instead of compete with.  Granted, we have only one episode to go by but already she doesn't seem to be so quick to judge Usagi or fall to anger.  While the parallel of her simmering rage to the barely-contained fire powers is nice it doesn't suit the behavior of a girl who wants to grow up and become a high priestess.
The episode starts with Jadeite getting chastised by Queen Beryl.  Can I get a "hell yes?"  One thing that still infuriates me about the original anime was how forgiving and lenient Queen Beryl seemed.  She gave Jadeite 13 chances to collect energy and find the Silver Crystal.  13!! It didn't help that the scene used for every episode in which Beryl instructs and criticizes Jadeite is obviously the same looped animation.  In the manga, and now in Crystal, Jadeite is given three chances.  If he is incapable of stopping these Guardians then what use is he to Queen Beryl and the Dark Kingdom?
This is a show about friendship and fighting evil by moonlight.  If you didn't already know that then I have no idea what you're even doing here.  One thing that I felt got lost in the shuffle and humor of the original anime was the sincere and touching bond between these girls.  After "Act 2" we've already established that Ami and Usagi have cemented their affection alliance but "Act 3" gives us a new girl and a new level of partnership.
Rei is different than Usagi and Ami.  She goes to an expensive private school, she works as a shrine maiden, and she seems years more mature than the other two just by the way she carries herself.  Even before they find out she has strange supernatural powers of premonition she seems out of their league.  I love that Usagi immediately gets heart-eyes the second she sees Rei because in every format this story has taken place it's a known fact that the future Sailor Mars is a stunner.
Instead of the clumsy way the two girls meet in the original anime, this time an on-edge Rei accidentally uses one of her sacred scrolls on Usagi and is deeply apologetic.  Instead of throwing a fit Usagi uses her endearing curiosity to try and help Rei.  All she knows about this girl is that she is beautiful and in trouble but Usagi is drawn to helping her regardless.
This is a fantastic example of why Usagi is so much more of a capable leader in Sailor Moon Crystal.  While she is still very much an unprepared child her heart is made of gold and she can't help but want to do the right thing.  Later when Usagi sees Jadeite driving away in the Demon Bus with an unconscious Rei she jumps to action.  It's a silly decision to transform in the middle of the street for anyone, specifically Tuxedo Mask, to see but she does it and hops on the bus to save Rei.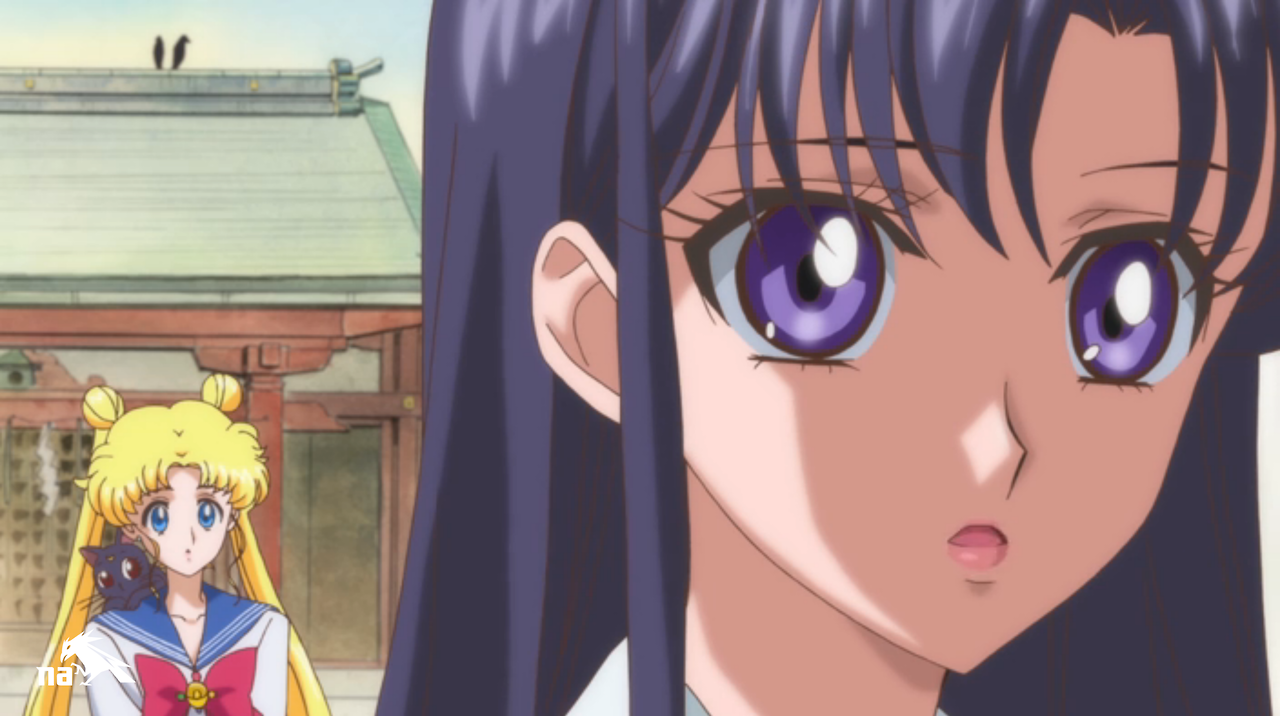 Speaking of Tuxedo Mask, it's no shock that I am very much infatuated with this man but what makes Sailor Moon Crystal better than the original anime is how he is a side character for now.  He's not always saving the day, rescuing the girls, and demolishing the Dark Kingdom's monsters.  No, he pops up like a debonair Batman slowing piecing together clues from the strange events and appearances in Juuban.  Even as Mamoru he isn't constantly picking on Usagi, he is intrigued by her and sometimes annoyed by her youthful ignorance but there isn't the borderline bullying that we're used to.  In Crystal we're given all the hints of young, romantic tension without the playground pigtail pulling.
There are two last things I want to point out.  First, I'm still super on the fence about the CGI during the transformations but I'll admit the fire effects for Mars look awesome.  I think it's the most appropriate use of CGI that I've seen so far.  Secondly, one thing that was completely written out in the anime adaption was the history behind the Shitennou.  In the original anime they were downplayed as just generals to Queen Beryl but in the manga they were actually the former advisors and bodyguards of Prince Endymion.  On the last page of the manga Naoko Takeuchi included a picture of each general posed with a Senshi as a way to imply that maybe there were past romances in the Moon Kingdom.  SHIP ALERT SHIP ALERT SHIP ALERT.  Just the tiny addition of this brief moment between Jadeite and Rei set off all my heart's alarms.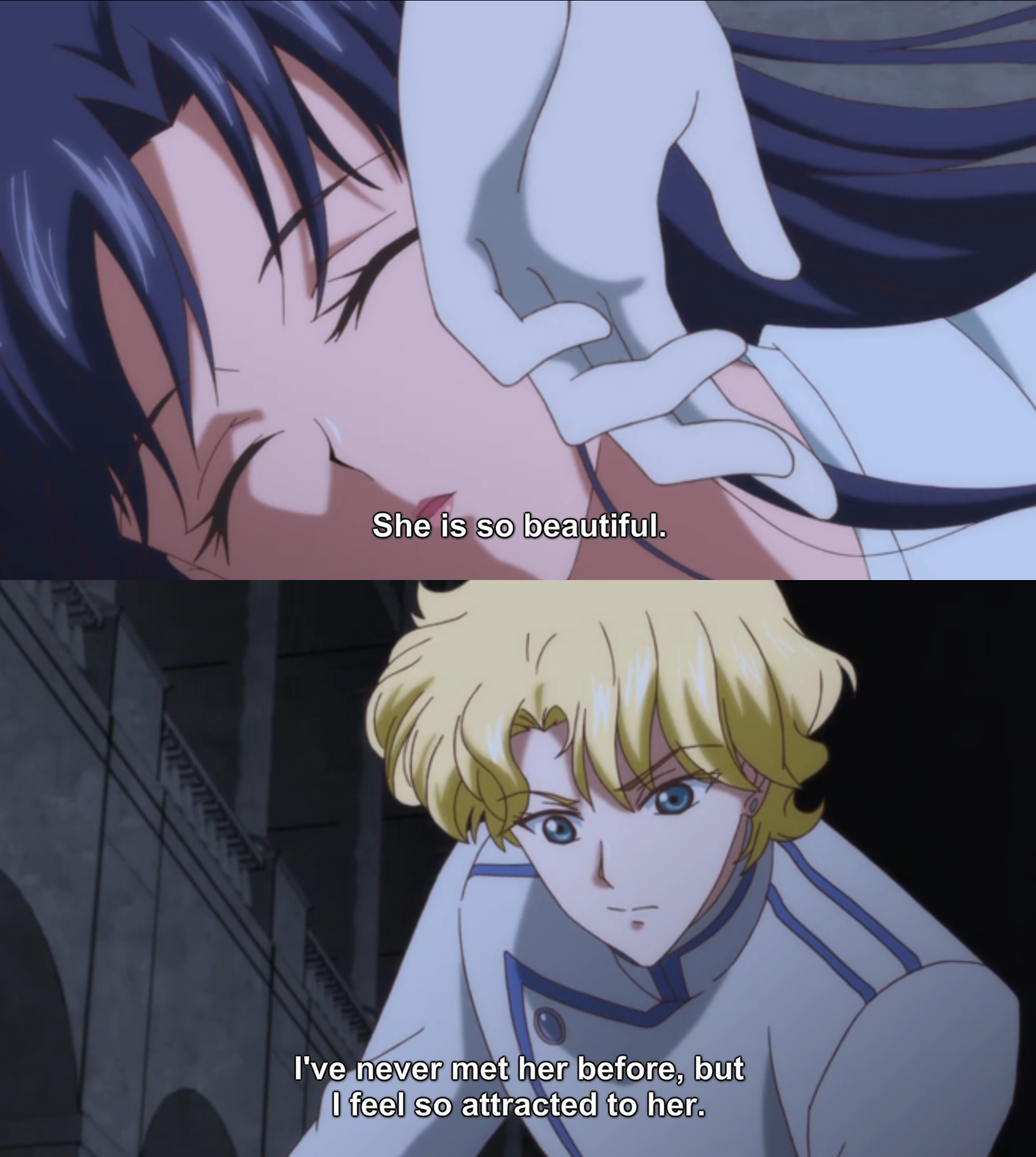 This was a damn solid episode.  We see more of the how Queen Beryl treats her most loyal subjects including Jadeite's compatriots, we're introduced to the third Senshi, and we see Mamoru finally catch Usagi transforming.  Things are heating up on Crystal and I can't wait for Act 4!
If you still haven't seen Sailor Moon Crystal yet there are quite a few places you can check it out for free: Hulu, Crunchyroll, and Niconico!