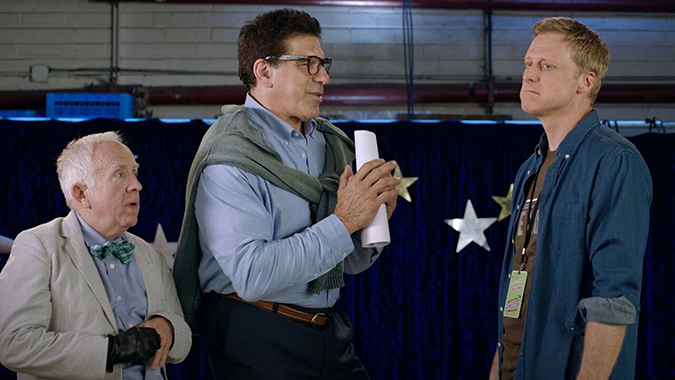 Alan Tudyk and Nathan Fillion earned their geek cred on Joss Whedon's short-lived sci-fi series, Firefly, and the subsequent feature film Serenity. Since then, they've found steady work as Fillion in the lead role on ABC's Castle and Tudyk doing numerous voiceover work in several Disney movies and, most recently, as the sardonic droid, K2SO, in Rogue One: A Star Wars Story.
Along with novelist/producer PJ Haarsma, Tudyk and Fillion tapped into a familiar world with their new web series, Con Man. Tudyk (who also directed the entirety of season 1) plays Wray Nerely, an actor whose renowned role was as a starship pilot on a beloved TV show called Spectrum. Sound familiar?
While Wray is a popular fixture on the convention circuit, he struggles to land choice roles that will distance him from his past work. On the other hand, his co-star, Jack Moore (Fillion), has gone on to become a bankable leading man. It's a constant reminder of Wray's never-ending frustrations. The first season debuted on Vimeo in the fall of 2015 and centered on Wray's quest to score a part in the latest Clint Eastwood movie. For the second season, Con Man has migrated to Comic Con HQ, the new streaming service founded by Lionsgate and San Diego Comic-Con.
Jack has scored the rights to make the much-anticipated big screen version of Spectrum and hopes to reunite the actors at Shock-A-Con, the biggest convention ever. Of course, Wray has no interesting in revisiting his past and even less interest in commiserating with his former castmates. Not when a major network is seeking to cast the starring role of Blade Slater in Doctor Cop Lawyer. Naturally, the chance to play a man who is simultaneously doctor, cop, and lawyer is a highly sought after one. Wray's primary competition happens to be Girth Hemsworth (Liam McIntyre), the lesser known brother of Liam and Chris.
The humor of Con Man is off-the-wall and sometimes borders on surreal. When Wray visits his talent agency, a succession of agents is hired and fired before he even gets to the office. The second half of the season revolves around Wray meeting Lou Ferrigno, who is mounting a musical based on Of Mice and Men. Familiar faces abound with Eliza Dushku, Henry Rollins, Amy Acker, Felicia Day, and former Supergirl Laura Vandervoort appearing in supporting roles. Plus, there are plenty of cameos from the likes of Stephen Root, Echo Kellum, Casper Van Dien, and the king of cameos Stan Lee.
The episode list for Con Man: Season 2 includes:
1. "What Goes Up"
2. "New Deal, No Deal"
3. "Them's the Breaks"
4. "A Small Step for Manly"
5. "Dick Lansing"
6. "Gum Drop"
7. "Pin Cushion"
8. "I'm with Stupid"
9. "Back to the Past"
10. "Dawn of Girth"
11. "A Shot with Finley"
12. "Shock to the System"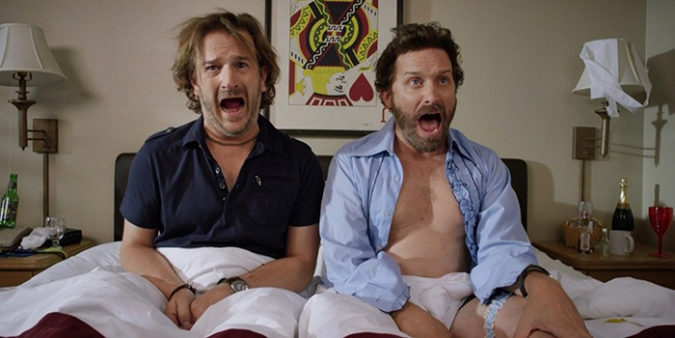 Also debuting on Comic Con HQ is the similarly themed Kings of Con, starring Rob Benedict and Richard Speight Jr. of Supernatural fame. Benedict and Speight appeared on the long-running CW drama in the roles of God and the archangel Gabriel. Inspired by their own experiences, Kings of Con follows Rob and Richard's misadventures as they earn a living signing autographs at conventions across the country.
As the show begins, Rob is reeling from a sudden divorce and has rebound sex with a female cosplayer dressed as his character, complete with fake beard. This leads to an awkward morning after and an intervention with other convention guests. You'll also see Matt Bomer drop by to help our protagonists get in shape and a run-in with The Walking Dead's Michael Cudlitz when Rich tries to hook up with an amorous fan in Texas. There's also a Hangover­-esque episode set in Vegas where Rob and Rich are shocked to discover they are married to each other.
The jokes in Kings of Con come at a rapid pace and the show is more steeped in con culture than Con Man, which is more preoccupied with the travails of Hollywood. Some of the references and cameos may go over the heads of viewers who aren't followers of Supernatural.
The episode list for Kings of Con: Season 1 includes:
1. "Whippany, NJ"
2. "Whippany, NJ – Still Whipping"
3. "Pasadena, CA"
4. "Bellevue, WA"
5. "Burnsville, MN"
6. "Franklin, TN"
7. "Littleton, CO"
8. "Plano, TX"
9. "Las Vegas, NV"
10. "Arlington, VA"
Both Con Man and Kings of Con are enjoyable comedies, especially for Whedonites and admirers of Supernatural. The episodes usually run the twelve to fifteen-minute mark thus making them an easy binge watch.
Rating: 7/10