Some men were born to be sex symbols: James Dean, Paul Newman, Idris Elba, Ryan Reynolds, and of course Christopher "Corsair" Summers.
I know this sounds like the opening to one of my Boy Crazy Comics columns but that is next week, today I want to talk about all the of the Summers men most importantly the hunk-of-burning-love that is their father.
In recent years Scott Summers' reputation has gone from loveable dork to most hated mutant to laughable attempt at an anti-hero.  Honestly, I would be more annoyed at writers (mostly Bendis) for turning Cyclops into such an emotional punching bag except that as far as his brothers go his life has been easiest.  Next up is Alex who had all the building blocks to be the smarmy, cocky ladies man of a younger brother but alas, he's a Summers so he fell in love with a beautifully crazy chick and never got over her.  Mutant monogamy is strong with this family.  Poor Alex was orphaned, separated from his brother, adopted by a kind but weird family and then kidnapped by a series of villains before being properly reunited with his brother and joining the X-Men.  Then after watching his dad killed at the hands of his estranged brother he took over the Starjammers and disappeared from continuity for YEARS.  And Gabriel, poor psychotic Gabriel.  His origin is definitely the worst.  Ripped from his mother's womb just before she was murdered then incubated rapidly and sold to slavery he was a bred for villainy.
These three sons are not well-adjusted brothers who occasionally fight but always come back together because, hey, that's how family works.  Nope.  They are a mess.  All of them. I wish they would get along better, then I could live out more Outsiders-style fantasies à la S.E. Hinton.  Just like Darry, Sodapop, and Ponyboy the Summers brothers would yell at each other and slam doors but mostly just get into fights with people who threaten their little family.
But no, instead I have a guy who whines like rusty porch swing, an Uncanny Avenger who looks like he's cosplaying as Bullseye, and a possibly dead, tyrannical sadist.  Thank god their dad is relevant again.
Recently in Marvel's "All-New" line-up a young Scott Summers brought to present time by the lunatic genius known as Beast met up with his father.  Corsair offered to bring him along and young Scott, confused and overwhelmed by the knowledge of what the future holds for him jumped at the chance.  When I first saw Cyclops #1 solicited I laughed.  Out loud.  But as I took a longer look at the cover I realized 80's dreamboat Christopher Summers was in the background like a beacon of sexual hope.
Corsair wasn't originally intended to be Scott and Alex's father, he was a fever dream from the wild mind of Dave Cockrum.  And yet even after numerous rejections Chris Claremont took pity (probably for the last time ever) on the poor schmuck and worked it into X-continuity.  Everything about Corsair reeks of late 70's sci-fi.  From the porno 'stache to the wind-blown head scarf right down to the high upturned collar which was a sign of true masculinity.  No one questioned Corsair's machismo and until one fateful month later when Star Wars hit the big screens he was the epitome of swashbuckling space piracy.
Some might think my love for Corsair is ironic or an attempt at proving my comic prowess but I legit think he is fascinating.  Much like his sons he is physically gifted with a body to rock the space time continuum but instead of flitting from woman to woman he was fiercely loyal to his beloved wife and then to his alien girlfriend Hepzibah.  Really think about that, picture a young Tom Selleck dressed like Steven Tyler travelling the galaxy.  He should be jumping at the chance to smang all the intergalactic tang he could get but instead he developed deep feelings for one woman and committed.  Mutant goddamn monogamy.
While all three of his sons have also ventured into space it was truly Corsair's domain.  Think Captain Malcolm Reynolds with a dash of Han Solo's exposed hairy chest.  He leads a crew who stopped thinking of their birth planets as home and treated their ship as if she were a part of their team.   He is always willing to fight for those that need it even when the odds are stacked way against him.  None of this sounds all that new or refreshing but there it is, he's a space pirate.
In Cyclops #1 Corsair has a touching conversation with Hepzibah about how he questions his ability to be a good father after so many years gallivanting around universes.  I love that, he doesn't shy away from being a father because he thinks it's uncool or beneath him but because he's scared of failing.  Not only is he worried about being a bad dad but he's unnerved about disappointing his son.  Guys, this takes that almost clichéd anti-hero stink right off of Corsair and makes him beautifully human again.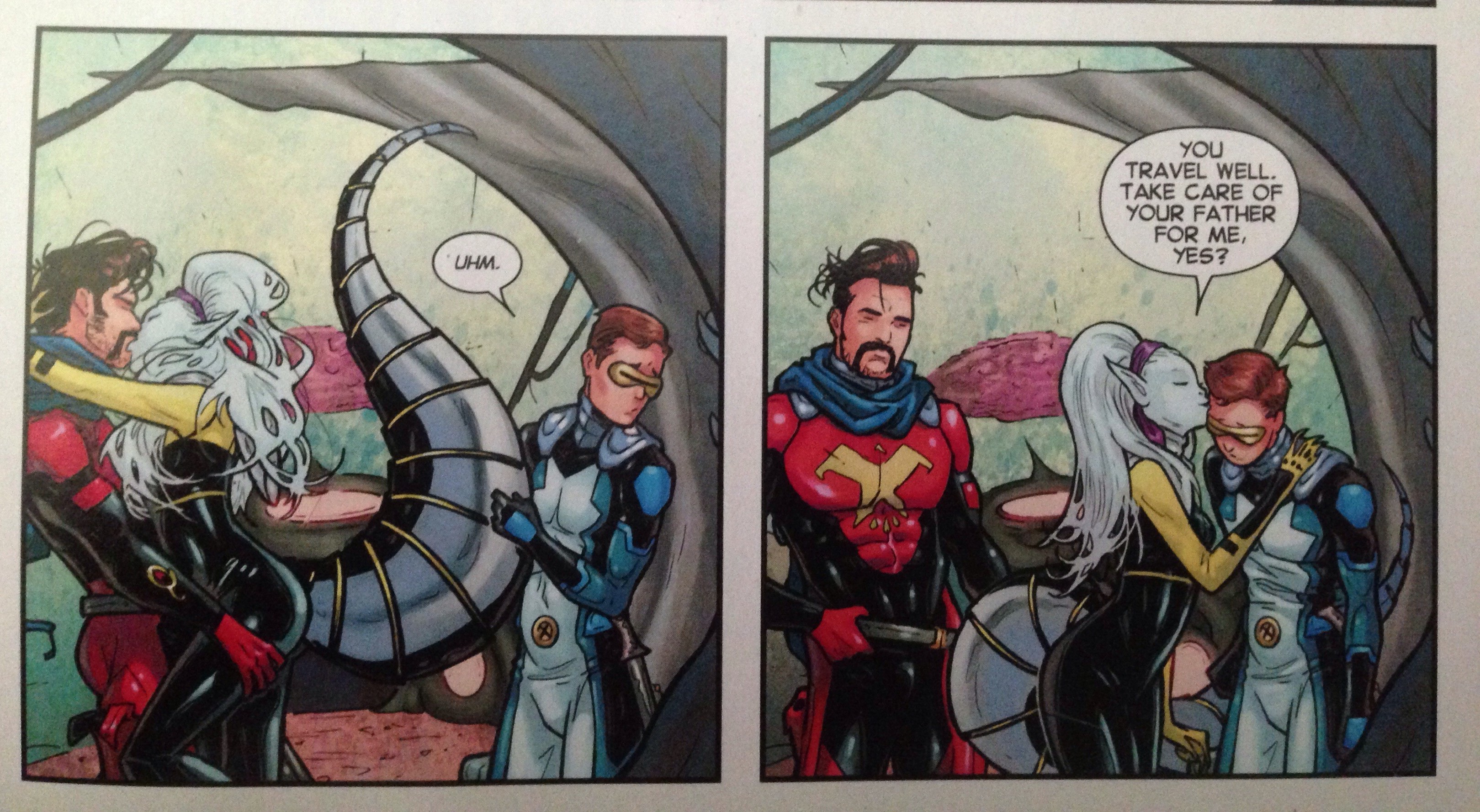 I think the real question isn't why do I love Corsair, but why don't you?  Are you super against silly sci-fi?  Does the idea of porno 'staches and extravagant cutlasses not rev your engine?  Does a team of space outlaws not intrigue you?  If so then you have a lot more problems than those silly Summers boys