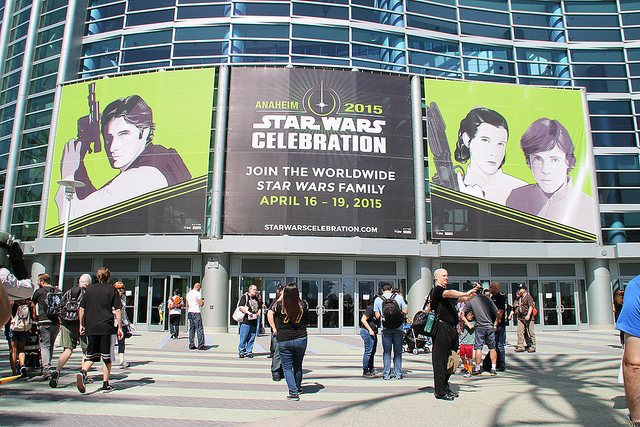 The city of Anaheim barely had a chance to recover from WonderCon when the geeks invaded once more for Star Wars Celebration (Apr. 16 – 19). For the first time in 8 years, Celebration was held in Southern California after being held most recently in Orlando and Germany.
This year's Celebration may have been the most highly anticipated with JJ Abrams and the stars of The Force Awakens dropping by to debut the latest trailer for Episode VII. The fun didn't let up with Anthony Daniels, Mark Hamill, and Carrie Fisher all hosting well-attended panels, along with a star-studded screening of the season 2 premiere of Star Wars: Rebels.  Gareth Edwards (Monsters, Godzilla) appeared on the main stage to officially announce the title of the 2016's first Star Wars spinoff, Star Wars Anthology: Rogue One, a prequel set before A New Hope. The film will star Felicity Jones and focus on an elite team of rebels on a mission to steal the Death Star plans.
While fellow agent Earl Baylon attended Celebration on opening day, I hit up the gathering on Saturday, which is generally the busiest day of any convention. The crowds were teeming and lines stretched as far as the eye could see. It took me over 4 hours just to get in to see the props and costumes from the Force Awakens exhibit. The show floor featured an enormous AT-AT Walker, recreations of the Mos Eisley Cantina, a Jawa Sandcrawler, and the Bacta Tank, and even a tattoo pavilion.
One of the best parts of attending pop culture events like Star Wars Celebration is the great cosplay. There was the usual selection of Mandalorian Commandos, Sith Lords, and Slave Leias. We also saw some inventive mash-ups like a Star Wars/Frozen combo, a Jedi Doctor Zaius, and an assortment of Star Wars Playboy Bunnies.
For more Star Wars Celebration photos, head on over to Flickr.